The first good news Google brings to publishers after its acquisition of FeedBurner is making the FeedBurner Pro free. 2 pay-services of FeedBurner Pro, respectively the TotalStats (FeedBurner Stats Pro) and MyBrand are now free. For those who actually paid for these services previously, that's good news, you will never be billed again.
FeedBurner Stats Pro

FeedBurner Stats Pro gives you a more in-depth detail on your feed statistics. Here is a FeedBurner description on this service.
You will now have access to the number of people who have viewed or clicked individual content items in your feed and "Reach," which estimates the daily number of subscribers who interacted with your feed content.
Before you can use, you need to activate this service. To activate it, go to Analyze tab, under Services, click on FeedBurner Stats Pro and checked all services marked with "PRO" and click Save.
FeedBurner MyBrand
MyBrand allows you to change your feed URL from
feeds.feedburner.com/myfeedname
to
feeds.mydomain.com/myfeedname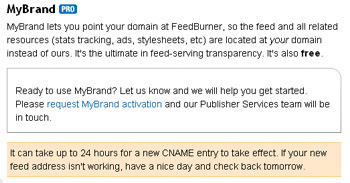 To enable this service, go to My Account (on top) and click on MyBrand PRO under Services. Click "request MyBrand activation" and send email to request for the service.